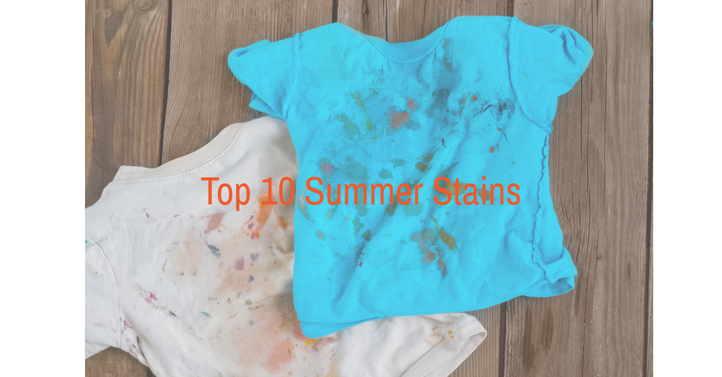 Top 10 Summer Stains & How to Treat Them
So the kids are playing outside, hubby is mowing the lawn, and Uncle is on the grill. Well, you already know what comes next… Dirty Laundry! The True Signs of Summer! While you and your family love SUMMER and being outdoors, we at True Laundry know what you don't like... all the dirty clothes resulting from all that summer fun!
Don't fret! We've Got You! We did a little digging and found out what stains are killing parents the most.
The Top 10 Summer Stains
Grass
Mud
Bird Poop
Pollen
Red Wine
Ketchup
Sweat
Sunscreen
Chocolate
Coffee 
Which stain is the most common in your house? True Laundry Detergent can help get those stubborn SUMMER STAINS out…GUARANTEED! Our detergent is suitable for the whole family and can be used on all washable natural & synthetic fabric and in all water temperatures. True Detergent is a deep cleaner that removes filthy sports stains and sweat too. And here are
3 quick & easy simple steps to get your summer stains out!
Step One.
Make True Detergent your go-to for getting stains out.
Step Two.
Use 1/8 cup of True Detergent in your wash. For tough spots or stains, pour detergent directly on the stain or spot, rub gently, and add to load to wash as normal.
Step Three.
Wash as normal
That's it... 1, 2, 3 and just like that, your clothes are clean again! The stains are out because that is what True Laundry is all about!
Getting dirty is a part of summer fun but the aftermath of cleaning your clothes doesn't have to be so grueling. We want you to have stress-free summer fun. Meaning… enjoy your outdoor fun with the peace of mind in knowing that whatever dirt gets on your clothes, it will truly come out… with True Laundry Detergent.
Okay, so fess up! How did your family's clothes get so dirty anyhow? Were your kids rolling around in the grass, or playing in mud after the rain? Did you spill red wine on your spanking brand-new white pants? Or, did the ketchup from that juicy burger fresh off the grill spill down on your hubby's wife-beater?
Regardless of the reasons for the loads of laundry that you now have to do, take comfort in knowing that you and your loved ones had FUN creating those dirty clothes.