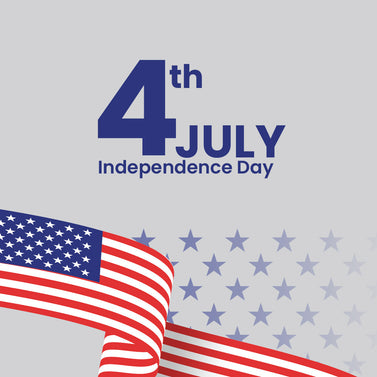 Parades, Fireworks, and the Family BBQ are all things that are reminiscent of the 4th of July, also known as Independence Day!

In school, we learned that on July 4, 1776, the Declaration of Independence was signed by Congress and the 13 North American colonies were freed from Great Britain. At home or in our community, we learned that Blacks were not yet free, and therefore the 4th of July is NOT for Us! So…should we celebrate this day?

In Frederick Douglass' speech, "What to the Slave Is the Fourth of July?" he declared that "true freedom cannot exist in America if Black people are still enslaved." Was he right? His historic speech was given on July 5th 1776 — the DAY AFTER! Just let that sink in for a moment.

So without delving into this deep and dark reality, let's FAST FORWARD…
The 4th of July is NOW a federal holiday and is celebrated by millions of Americans, including Black folks.

America's independence was won by courageous men who fought for our country in the American Revolutionary War. And so, we are very proud that the owners of True Laundry are Military Men i.e. Veterans who served our country and are now serving the Community.

While there are many ways to celebrate our country's freedom, and perhaps some may say that we should NOT celebrate this day at all, WE at True Laundry wish to celebrate this day by HONORING the founders of True Laundry, who are also VETERANS.


Ali B. Muhammad, Malik Saleem and Abdur-Rahim Shaheed founded True Laundry in November 2012. While each were successful business owners, they came together to create The True Products brand so that they can collectively serve their community as they continue to fight for our FREEDOM & INDEPENDENCE –We Thank Them!

True Products LLC is based in Atlanta and specializes in laundry detergent and a plant-based fabric softener. It offers the best detergent in the market and is safe for both standard and high efficiency washing machines.

On this day and in honor of our True Laundry founders, we ask that you not only support True Laundry, but that you also Support Black Veteran Owned Businesses – Unapologetically!