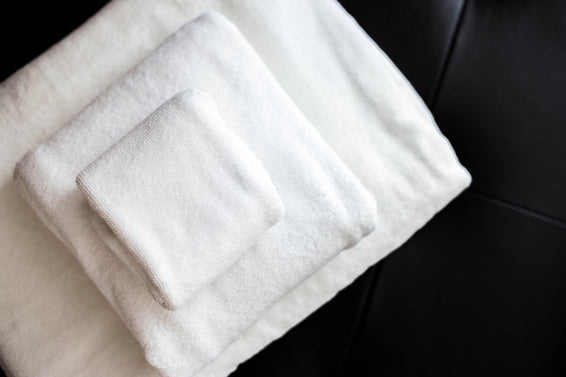 Did you just wash your towel but it still has an odor?  You'll agree, it can be very frustrating. Try these steps and let us know on Facebook if it worked or not.
Refresh Your Towels!
Over time, towels build up detergent and fabric softener, leaving them unable to absorb as much water and smelly, refresh your towels:

Wash towels once with hot water and 1cup vinegar,
Wash towels a 2nd time with hot water and half cup baking soda.
Wash again in 1 oz of 
This strips the residue and leaves your towels smelling fresh and clean! 
Here are a few other techniques you can use:
Put your towels into your washer machine.  Mine is a high efficiency (HE) front loader washer machine but you can also do this with a standard washer machine too.
Add 1/2 cup baking soda right over the towels.  Don't worry about using the dispenser, just pour it right over the towels.  If you have a standard washer machine, use 1 cup of baking soda and add it to the towels and then fill with water.  DO NOT ADD SOAP OR VINEGAR, ADD NOTHING BUT BAKING SODA!
Run a full cycle using hot water for the wash and rinse cycle.  You will be absolutely amazed on how fresh the towels smell.
Dry fully and then fold and use!
However, if you have some towels that are really stubborn and still have a smell, then I highly recommend these 4 essential oils!
Lemon Essential Oil
Lavender Essential Oil
Coriander Seed Essential Oil
Tea Tree Essential Oil
Simply choose which essential oil you would like to use or you could use a combination of these essential oils and add 3-5 drops to the baking soda before you add to the wash and shake well to combine the essential oil with the baking soda.  Add to wash and proceed as normal.
Let us know on Facebook which technique worked for you.