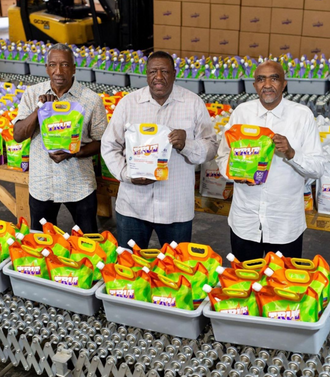 Ali B. Muhammad
 Ali B Muhammad is Vietnam War Veteran, an entrepreneur, real estate developer, consultant, master marketer and transcendental coach since 1968.  Ali Muhammad has achieved much recognition for his successful business in the fast food, bakery and real estate industries in Newark, NJ providing jobs and grossing over several million dollars during the early 1970's.   In 1976, Ali invested in a successful motivational improvement company, SMI (Success Motivation Institute), Waco, TX founded by Paul J Meyers. His company helped many individuals and companies to reach and achieved their goals through goal setting and the laws of attraction, attending weekly sessions taught by Ali Muhammad.  In the early 1980's, Ali Muhammad was a nutritional consultant for activist/philanthropist, Dick Gregory's health food line. 
After relocating to Atlanta, GA in 1986, Ali spearheaded single handedly the marketing of Al-Fajr air freshener sprays and stick incense in several supermarkets, grocery stores and beauty stores around the metro Atlanta area, including Kroger, Piggly Wiggly, Wayfield Foods, A&P and Super Value, grossing millions in sales.  During the 1990's, Ali Muhammad was consulted to assist in the marketing of renowned boxer Muhammad Ali's newly developed snack food line.  Ali B Muhammad, in 2004, successfully acquired a million dollar construction loan to develop a subdivision in DeKalb County.  As a small real estate developer, Ali Muhammad single handedly accomplished approval to develop a subdivision in DeKalb County, known as Ellis Estate.  He has been the Owner/Operator and Manager of seven fast food restaurant business. Ali is currently in partnership with True Products marketing True Heavy Duty Laundry  Detergent.  Ali B Muhammad resides in Atlanta, GA with his wife and partner of 40 years, has raised seven children and is a grandfather of seven and great grandfather of one.  Ali is currently working on his biography/movie, books and dvds on the law of attraction.
Malik Saleem
Malik Saleem was introduced to business at an early age by his father.   Learning the principals of entrepreneurship assisted Malik in establishing his first business in college.  After completing college, Malik started his business as a street vendor and after 16 years purchased the building across the street from where he was vending.  In 2003, Malik and his partner opened their first retail business location.  In 2005, Malik started an import and export distribution business, first importing from Korea and then China. Malik Saleem has been in the retail business for over 30 years and started the Salaam Group Import and Export distribution company in 2005 importing from Korea, Bangladesh, India and China.  Malik has gained a wealth of knowledge, connections and resources in international business. Malik also recently started an underwear line called 'Champ Boxers'. Malik continues to use his business expertise for the True Laundry Detergent brand.
Abdur-Rahim Shaheed
Abdur-Rahim Shaheed is a 40-year veteran in sales and marketing.  Originally from Alabama, Abdur-Rahim is a long-time resident of the Atlanta area.  He served his country in the United States military during the Vietnam era.  Upon his return home, Abdur -Rahim started his own business—selling clothing wholesale and running multiple 'Paradise Fish and Chicken' restaurants.  After profitably operating the restaurants for years, he sold the businesses.   
An avid traveler and citizen of the world, Abdur-Rahim started 'Midway International Trading Company' to focus his sights on global revenue.  Through this company, Abdur-Rahim acquired government contracts and distributed poultry and eggs to the United States Department of Defense and the State of Georgia. Within the Atlanta-area, Abdur-Rahim continues to exhibit his talent in sales and marketing.  He recently rehabilitated and managed a 100 unit complex in Riverdale, Ga.  Additionally, he is a partner in True Products and actively works to have the company's laundry detergent distributed in numerous states.  Although Abdur-Rahim is a multi-faceted entrepreneur, he considers his greatest achievements to be within his community.  His time spent coaching little league baseball and basketball remains one of his greatest accomplishments.  Abdur-Rahim lives by the concept that success and failure are determined by effort.  His formula for success is proper preparation, discipline, and an unwavering sense of purpose.