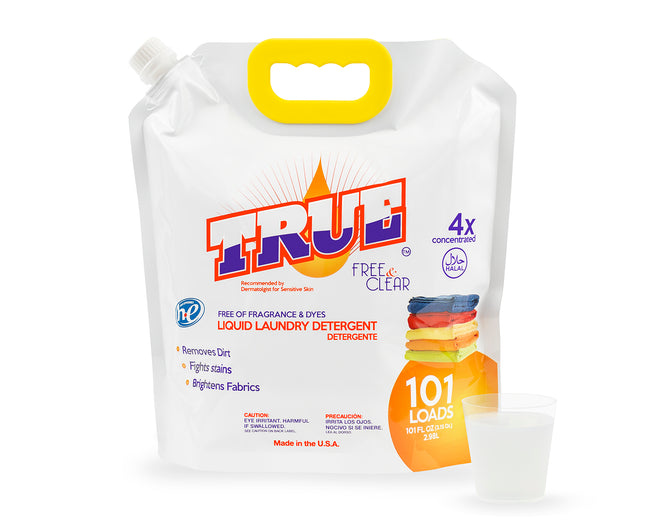 Availability:
2560 In Stock
True Laundry Clear Detergent is a 4x concentrated laundry detergent with an unscented formula and contains no dyes. Recommended by Dermatologist it is suitable for the entire family, can be used on all washable natural & synthetic fabric, and is effective in all water temperatures. True delivers a deep-down clean that removes sports odors, especially sweat. 
 
4x Concentrated 
1- 101 fl. oz.  101 loads 

Directions: 1oz is all that is required for most washable loads.  Use more for heavily soiled loads. 
For High Efficiency & Top Loaders: Use 1/8 cup. 
Pre-treat tough spots or stains:
Pour detergent directly onto stain or spot

Rub gently. 

Wash as normal 
Ingredients
: Water, surfactants (anionic & nonionic), coconut amide, fatty acid soap, fabric whitening agents, and preservatives. 
Made Without: animal byproducts (enzymes), phosphorus, caustics, 
formaldehyde, DEA, petrochemicals or SLS. 
Free of color
Free of perfumes and fragrances.
Safe For Sensitive Skin 
Not Tested on Animals
Removes Dirt, Brightens Fabric
4X Concentrated-Saves Money
Removes Sports Odor & Sweat
Contains No Animal By-Products
Biodegradable, Non-Toxic and Phosphorus-Free
Made in the USA & Veteran Owned
CARING CAUTION: KEEP OUT OF REACH OF CHILDREN
Safe For All Washers
TRUE GUARANTEE Love True or Return it in

 

30 days for a FULL REFUND!
100%
of reviewers would recommend this product to a friend
TRUEly Amazing!
I have very sensitive skin and smell, and it's been so hard to find a product that truly is free of all the nasty fragrances, chemicals and additives that is also vegan and cruelty free, but here comes TRUE to save the day! I haven't been able to find a product that checked off all those boxes, but when someone referred me to TRUE, I took the chance and I couldn't be more thankful. The Free & Clear detergent really is amazing. It's also great that they offer the 2-pack bundle, plus with the small amount needed for loads, I feel even better knowing I'm not just wasting product. Highly recommend!
Best switch ever
So happy to have made the decision to change detergents. We are able to use less and it lasts longer than expected.
Excellent just like the scented version
Good to have a scent- free option for sensitive skin I like the scent on the original formula too.)
Happy repeat buyer
This is my second purchase and the first time I have bought the Free & Clear version of your laundry soap. It works great and I'm very happy with how my laundry comes out. I'm also happy to be buying from a family run business instead of big, soulless corporation.